Up your cannabis edibles game with these cannabis cookbooks
Edibles aren't legal yet, but if you're down to roll up your sleeves in the kitchen, there's nothing stopping you from whipping up your own at home. It's not as hard as you think to make edibles, but you do need to know the basics. Anyone who has dipped a toe into the world of infused cooking knows it's frighteningly easy to just Google some random directions and end up powering through several pounds of butter and destroying all your bud. Get you a resource you can trust.
Here are 7 cookbooks that serve all levels of expertise, and offer everything you need to help you feed your appetite for weed.
Edibles: Small Bites for the Modern Cannabis Kitchen by Stephanie Hua and Coreen Carroll (2018)
If you want to impress guests at your next elevated cocktail party, this collection of 30 bite-sized, low-dose recipes can help you nail it. These treats include both sweet and savoury bites like duck meatball sliders, spiced superfood truffles, and gruyère and garlic gougères. If you've never decarboxylated cannabis – or if you're like decarbo-wtf? you're in good hands here – authors Stephanie and Coreen spell out every step from infusing your oil to plating your portions.
Cannabis Cocktails, Mocktails & Tonics: The Art of Spirited Drinks and Buzz-Worthy Libations by Warren Bobrow (2016)
If legalization had you re-assessing your bar cart in anticipation, this book has what you need to step up your cocktails with THC and CBD. Make your own infused syrups, bitters, creams and over 75 elevated cocktails. Author Warren Bobrow is a 'cocktail whisperer' and also a mixology teacher, and it shows – this cook includes all the essential info you need to become a cannabis cocktail creator, including introductory pointers for first-time imbibers.

High Tea: Gracious Cannabis Tea-Time Recipes for Every Occasion by Sandra Hinchliffe (2017)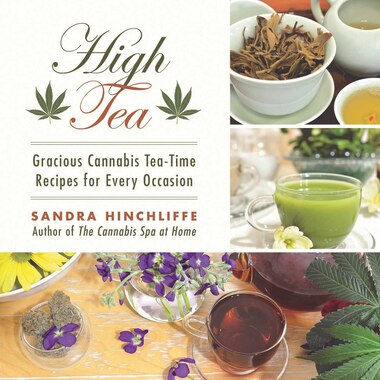 Explore the sensory joys of the terpene entourage in your cannabis teas and broths. Make tea a complete affair with homemade snacks from Sandra's sensitivity kitchen. This is the first and only cannabis recipe book free of all major allergens, gluten-free and preservative-free. So, if you have dietary sensitivities (and maybe that's why you appreciate cannabis), you'll find lots to love here.
Cooking with Cannabis: Delicious Recipes for Edibles and Everyday Favorites by Laurie Wolf (2016)
If you're more the type to crave a stuffed roast chicken with a side of infused roast veggies, look no further than this selection of 70 recipes from 'the Martha Stewart of cannabis.' Up your everyday eats for natural healing with Laurie's infusion techniques for butter, oil, cream, honey and make any meal – breakfast, lunch and dinner, an edible.

Kief Preston's Time-Tested Edibles Cookbook by Kief Preston (2016)
This book promises 'BOMB edibles' for those who are tired of paying $25 for dispensary products. Author / self-proclaimed bubba kush fanatic Kief Preston offers classic infused baked goods recipes like cocoacanna poundcake, fire french toast, and mashed pot-atoes. If you're down to explore some 'hella-potent' edibles, work your way through his Time-Tested Edibles series – there's a version for butter and coconut oil purists, and the time-strapped.
Marijuana Edibles: 40 Easy and Delicious Cannabis-Infused Desserts by Laurie Wolf and Mary Thigpen (2016)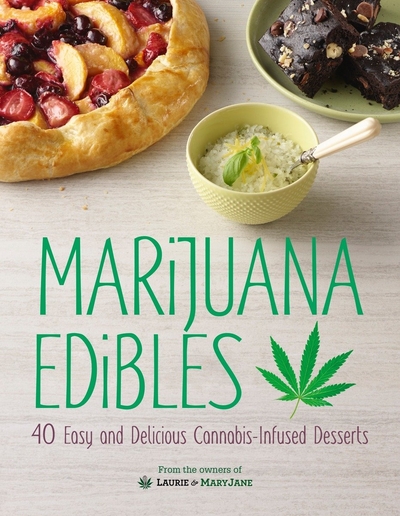 If you've mastered your brownie recipe, expand your arsenal with some other classic baked goods like cookies, truffles and pies. Author Laurie Wolf has won awards for her edibles, including 'the absolutely best pot brownie recipe of all time' according to Leafly, so her 40+ recipes here could very well be your new tried-and-trues. Vegan and gluten-free options are included, too.
Sweet Mary Jane: 75 Delicious Cannabis-Infused High-End Desserts by Karin Lazarus (2015)
From the owner of Colorado's beloved Sweet Mary Jane Bakery comes this collection of 75 baked goods recipes for fairly refined palettes. All recipes include infused sugar, oil or butter, but if you just have some really good chocolate or farm-fresh butter and eggs you want to turn into something decadent, there's a tart, sorbet, or truffle in here for you. These recipes are next-level with or without pot.