WDBX music lover, you already know what it is, our handpicked list of reasons to get out of the house and down to the record store to grab one of the Record Store Day Black Friday 2018 releases.
The sacrificial bird has been stewed in its juices, fed to burst with the fruit of the land, the sporting annuals end in triumph or loss, as do the family squabbles and struggles of willpower against pies, scotches, seconds, and armadas of gravy boats.
Now you need an excuse to leave. At the very least, grounds to retire to your sanctuary. WDBX music lover, you already know what it is, our handpicked list of reasons to get out of the house and down to the record store to grab one of the Record Store Day Black Friday 2018 releases:
As usual, in no particular order, and FAR FROM A COMPREHENSIVE ROUNDUP. These are simply the musings of a Canadian Dj who is thankful for all the tunes we get to play today, and of course, all of you in the WDBX family.
ELLA FITZGERALD – Ella at the Shrine
This one that you can kick back and enjoy with Grandma, or any family member who is an old soul, literally old, or just likes great songs. It's an essential artifact of a simpler time, and you can almost smell the cigarette smoke coming off of the wax. What are reissued records if not a form of musical archeology? This collection of the Beyonce of her day shredding in the grandeur of LA's Shrine Auditorium was literally discovered by the people at Verve Records while restoring from her archives. Far from sedate crooning, this  fiery set is a gem from the past that can pump up any parlour in the modern age.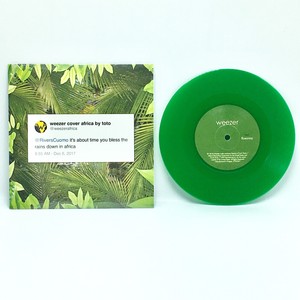 WEEZER – Africa/Rosanna
Unless your family is from Kansas, it's safe to say "we are not in Kansas anymore, Toto" or "we're not in Toto anymore, Kansas" with this loving 7" by rock gods Weezer. As you may have guessed, they take on the two most famous songs by their heroes Toto, ushering in the nostalgia rich yacht rock renaissance that will have uncles fascinated or crying sacrilege. It's better than yelling at the TV because of Trump or football.
TALKING HEADS – Remain In Light
This one is simple. A remastered version of one of the great albums of all time. Pressed on super cool translucent red vinyl. Get the whole family singing along to "Once In A Lifetime" especially if there are arguments over money, or divorces, the whole "house" "wife" "car" section can get big laughs.
LEBRON BROTHERS ORCHESTRA – Psychedelic Goes Latin
Sometimes a great meal can leave a person in need of a pick me up. Well, brew that coffee strong, kick back in your comfy pants, and let this swinging masterpiece of funky jazz jump in the pocket and get your spirits up, if not actually get your gravy altered butt wiggling.
Fight the Turkey-itis with a severe case of the boogaloo flu. Taken aurally. No human being feels worse when listening to this music.
GRAVEDIGGAZ – 6 Feet Deep
A fine duo to set the soundscape as you push away from the table, step off the porch to take a deep inhalation of air, vapour, smoke – The Rza and Prince Paul. The moody beats mingling with the effluvium of the rotting autumn leaves. After all, Thanksgiving is a time to celebrate life, and this Wu Tang adjacent masterpiece is a rumination on darkness and death, the yang to Thanksgiving yin.
Taylor Swift – Red
Although this will draw scoffs from some of the Old Heads as it peeks out of your bag, there is no reason to be guilty about this pleasure. This young songstress took her place among the Madonna, Cher, and Whitney atop the pop pantheon with a polished blast of authentic emotion and slick sumptuous production. It's not a real family party unless you get the kids dancing. This will.
Epic pop rock. Sir Bono wishes he still had this kind of juice.
Bob Marley & The Wailers – Catch A Fire
To commemorate the 45th anniversary of this classic (and, duh, WDBX office favourite), it has been re-released in the original package that opens like a Zippo lighter. On smoke coloured vinyl if you didn't get the message. This will spark good vibes, or a conversation, if nothing more fun…
DAVID AXELROD – Earth Rot
The name David Axelrod has become synonymous with hip-hop, as everyone from Dre, Diamond D, Swizz Beats, and J5 have availed themselves of elements of his exquisite jazz production. The mensches at Now-Again Records have completed their reissuing of Axe's famous Capitol Trilogy. It's some of the best music ever recorded, even if it might have your cousin running in from the kitchen thinking that you're playing Lil Wayne.
This is his opus to mother Earth and our place on it. Thought music that you can get down to.
VARIOUS ARTISTS – Rick & Morty Box Set
Dan Harmon and Justin Roiland's show is a rare combination of smart, funny, and culturally attuned that it unites all ages who are willing to watch. This is a collection of many of the hilarious songs that feature in the program, as well as some licences gems plucked for the music supervision of individual episodes. You'll get "Get Schwifty" and "The Rick Dance," but also tons of artwork and a bonus 7" which looks to be just the scream from this moment:
VARIOUS ARTISTS – Moon Rocks: Extraplanetary Funk, Space Disco, and Galactic Boogie
At the conclusion of a holiday which is spent rooting oneself into the couch and appreciating the bounty of this planet and the animals that trod upon it (some of which are eaten, others called "family") there is cause to want to blast off. After you come back with this collection from the wonderful curators at Jazz Dispensary, head up to your old bedroom, pop out that false bottom, or flip to the right page in that hollowed out textbook and let some classic cosmic slop take you high school high.
This isn't on the list, but it's the Thanksgiving anthem. Have a fulfilling weekend y'all. SUPPORT YOUR LOCAL RECORD STORE!